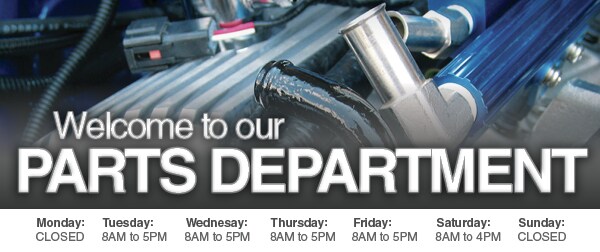 At the Ocean Park Ford Parts Department, our friendly and helpful staff are ready to assist you with any part you may need. Our team have years of experience in helping our loyal clients find exactly what they are looking for no matter how big or small, or how common or unique!
Whether this is your first time ordering a part or not, we're ready and waiting to help you. Take a look here to get started:
Do you know the part number(s) of the part(s) you are looking for?
If you do, perfect! Either fill out the form to the right or call us at (640) 531-8804 and we'll get pricing and availability information back to you right away.
If not, no worries! Just drop us a note explaining what you need (the more details the better) or give us a quick call and we'll help you sort out exactly what you need. From there, we can let you know if it's one of the many parts we have in stock or how long it will take to come in from one of many suppliers if needed.
What happens next?
If your part is in stock, we'll set it aside for you to come down and pick it up whenever is convenient for you. All of the paperwork will be ready and our goal will be to get you back on the road as smoothly as possible. But if you have any questions make sure to ask the experts! Our staff are always happy to provide pointers advice whenever they can.
If we have to order your part in, we will let you know exactly how long it will take to arrive. If anything happens along the way we will be in touch to let you know of any delays. As soon as it is in we will give you a call or email (as you prefer) and set it aside for you to come on by.
What kind of parts do you offer?
We carry all sorts of parts! No matter what you need, just let us know and we'll do our best to find it. We carry a full line of Motocraft parts that are designed and recommended by the Ford Motor Company. We also handle genuine ford collision repair parts to replace any damaged parts when in a collision.
Do you carry accessories?
We sure do, and we're so glad you asked! We carry the full line of Ford accessories for the complete range of Ford vehicles that we carry. No matter what you are looking for, we can not only help you find it but install it for you as well. Call us today at (604) 531-8804 or drop us a line to the right so we can help you customize your vehicle today!